We have a lot of interesting topics covered in the latest issue of VTQ magazine. We focus on multilocalism and discuss protecting global brand integrity in the digital age. We catch up with Mikel Forcada, President of the European Association for Machine Translation, and Yuka Ghesquière Nakasone from Beabloo, who shares her insights on the intersection of retail, technology and globalization. We also cover the smart working revolution with Vanessa Tierney. Paul Lancaster drops by to talk about startups and Beatrice Whelan from Sage goes into detail on how content marketers can break their echo chamber. This issue's interviews include author of Kiss, Bow, or Shake Hands, Terri Morrison. Peter Rose, CTO at TEKenable, Sonia Oliveira, Senior Globalization Director at GoPro, Bobby Power, Creator and Publisher at Go Wild magazine and much more! All this plus an update on the latest events and Think Global Forum.
In our third edition of VTQ magazine we hear from Redsand Partners Nicole Anderson on all things Fintech and from Microsoft's Geoffrey Colon discussing 'Disruptive Marketing' plus we discover Social Media for Events from Sage's Beatrice Whelan. In addition we hear from Fujitsu's Caragh O'Carroll, Dan Chappelle, The Wealthy Travel Agent, Renato Beninatto, CEO Nimdzi, Rohit Bhargava, Founder and Chief Trend Curator, Non-Obvious Company. Carlos Rodríguez García discusses Machine Learning and we talk to author Kit Brown-Hoekstra and NetApp's Anna Schlegel.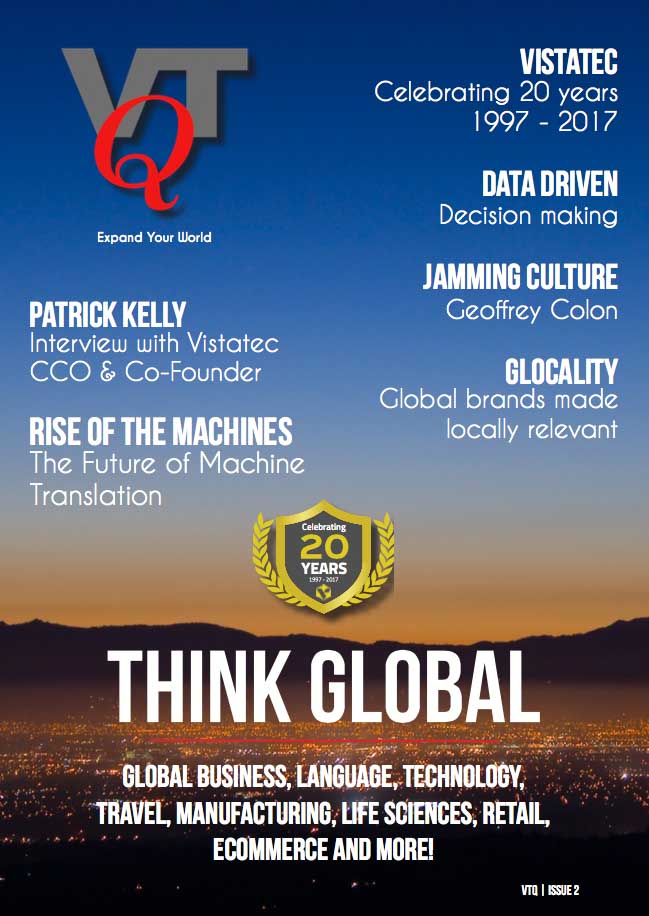 For this Second Issue we certainly scaled up our operations and feature a host of world class contributors in this bumper edition. We hear from Microsoft's Geoffrey Colon on 'Jamming Culture' and feature interviews with GetYourGuide, Sanctifly and Vistatec. We take a trip to Mexico City and cover what we can learn from China with Colin Lewis of OpenJaw Technologies.
Our first issue features an article by 'Truly Global' author and Women In Localization co-founder Anna Schlegel. Vistatec's Kristin Hansen shares tips on staying healthy while traveling, Phil Ritchie (CTO at Vistatec) talks about the latest technology 'Deep Content', and Bronwyn Hogan covers all things San Diego, where the Think Global Forum Life Sciences was launched recently.
All rights reserved. No part of this magazine may be reproduced without the written permission of the publisher. All information contained in this magazine is, as far as we are aware, correct at the time of going to press. VTQ Magazine does not accept responsibility for errors or inaccuracies in any information. VTQ Magazine and Vistatec endeavors to respect the intellectual property of the owners of copyrighted material reproduced herein. If you indentify yourself as the copyright holder of material we have wrongly attributed, please contact: info@VTQglobal.com